MICROSOFT POWER APPS TRAINING – Zero to Hero
Microsoft Power Apps Introduction
POWER APPS or POWERAPPS from Microsoft enables you to build and use custom business apps that connect to your data and work across the web and mobile – without the time and expense of custom software development. Apps built using Power Apps have a responsive design, and can run seamlessly in browser or on mobile devices (phone or tablet)
Power Apps can connect to business data stored in a Common Data Service or in a variety of online and on-premises data sources (SharePoint, Microsoft 365, Dynamics 365, SQL Server. , etc.).
This Power Apps course helps people with NO programming knowledge to quickly build custom APP / applications for business.
For more information, please see below links:
TARGET AUDIENCE
Working people in various industries and business functions: sales, Marketing, Finance, HR, IT… intend to use Low or No Code App to automate business processes
Management team, Business Owners to best use PowerApps for business efficiency
Students and those who have desire to upskill in this Digital Economy.
POWER APPS TRAINING OUTLINE
1. OVERVIEW OF MICROSOFT POWER APPS
– Overview of Power Apps, Microsoft Teams, Power Automate, SharePoint, Power BI, Power Virtual Agent (Chatbot) and Power Platform
– New Generative AI – ChatGPT function in Power Apps: auto create App with Copilot, Examples, Natural language and integrate Copilot (ChatGPT like) into App to analyse App data and answer questions from end users
– Relationship between the components in Microsoft Power Platform
– Common Power Apps being employed in businesses
– Factors to consider when selecting each type of PowerApps: Data, Connectors, Pricing…
2. MICROSOFT POWER APPS IMPORTANT CONCEPTS
– Understand Environment Data Sources, Connectors, Dataverse, Solution in PowerApps
– How to select data connectors – (Premium / Basic) Connectors
– How to connect data in Power Apps and common data sources (Excel, SharePoint, Common Data Service, Office 365 Users …)
– Distinguish Model Driven Apps and Canvas Apps, PowerApps Portal, PowerApps for Teams, Customize Microsoft Lists / SharePoint Form with Power Apps
– Understand Delegation in Canvas App: Delegable vs Non Delegable data sources and functions
3. BUILD VARIOUS APPS WITH POWER APPS
– Build your own Canvas Apps, Model Driven Apps in various ways (including Copilot, Image…) combining with Power Automate (Flow for process automation)
– Create Environment, Solution and manage Apps
– How to effectively select Connectors in PowerApps
– How to use Controls (Gallery, Form, Media – Camera – Image, barcode / QR code scanner, Dropdown, …) in Power Apps
– How to use Properties (OnSelect, Items, Source, Fill, TemplateFill, OnVisible, OnStart…) in Power Apps
– Use POWER FX functions to calculate and create apps on PowerApps, like: Collect, ClearCollect functions, SubmitForm, NewForm, ColorFade, IsBlank, Lookup, Remove, Search, Filter Functions, Set… and Variables
– How to fast design user-friendly, interactive Power Apps with UX/UI best practices.
– Share or Integrate PowerApps with Microsoft Teams, SharePoint and Power BI
LATEST REVIEWS FROM OUR COURSE PARTICIPANTS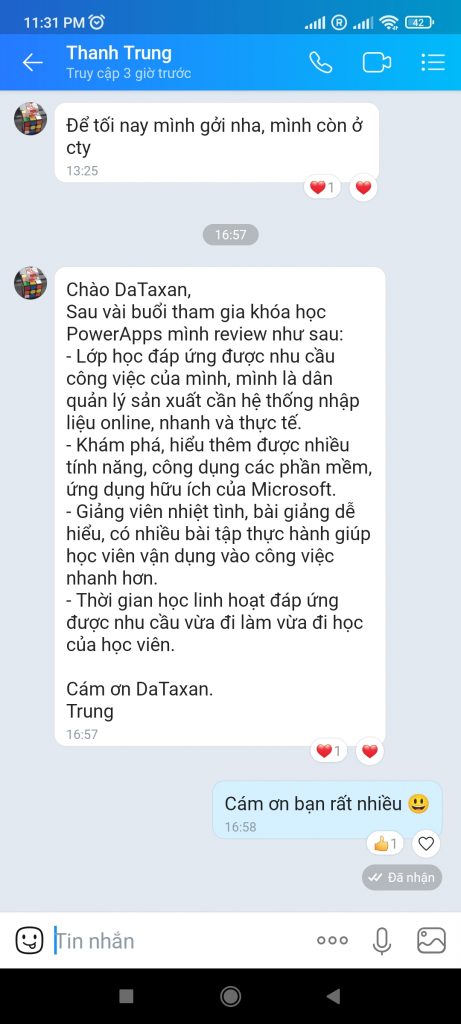 COURSE DETAILS
Training Fee
13.900.000đ/pax
– Early bird (*): 12.900.000đ/pax
– Group of 2: 12.500.000đ/pax
– Group of 3: 12.100.000đ/pax
– Student: Further Discount 5%
Date: 9/9/2023 Afternoon, Evening Sunday
Onsite – At Ho Chi Minh City Center or at Client's Office
Online – Live streaming via Skype, Zoom, Google Hangout…
Study time: Flexible (in or out of Business hours, Weekdays, Weekends)
Duration: 5 weeks (5 sessions, 3 hr/session study & practise LIVE with lecturer + 5 sessions, 2hr/session practice and discuss in Group chat with lecturer and other students)
Max number of Students: 20 persons
Language: English or Vietnamese (**)
Only need to pay 50% tuition fee on enrolment, the remaining tuition fee will be paid right before start of the course
Registration Hotline: +84 988533715
Registration Hotlink: https://forms.gle/q7fVmzFfDvyp6XAB7
(*): Before 25 Aug 2023
1USD = 22.000 VND
(**): See Vietnamese version
COURSE HIGHLIGHTS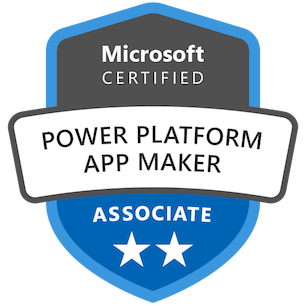 Lecturers, accredited by Microsoft as Power Platform App Maker Associate (Microsoft PL-100) have intensive practical experience in implementing PowerApps at Big Corporate Groups in Germany and Denmark
The course uses training documentation, materials from Microsoft
Learners have access to up-to-date training materials even after course graduation
Learners have FREE access to DaTaxan Lab (with PowerApps license + Power Automate, Microsoft Office 365 and Power BI Pro) throughout the course
DaTaxan certificate of course accomplishment upon successfully completing all homework assignments
Lecturers have intensive practical experience in implementing PowerApps at Big Corporate Groups in Germany and Denmark
Be part of International Facebook Group (+10K members) – Exchange, learn and share knowledge, skills on PowerApps
Effective training method where Learners can practice case studies right in class
Attend to learners' questions and real-case problems throughout the course
Limited seats available (max 20 students) to ensure good interaction and highest training quality
Competitive training fee with multiple offers like early bird, discount for group registration, for students…
Training fee is not subject to VAT
TRAINING REQUIREMENT
Students need their own laptops/computers to practice at class.